»I stand upon my desk to remind myself that we must constantly look at things in a different way.
You see, the world looks very different from up here.«
From the motion picture "Dead Poets Society"
My directing work focuses on poetic storytelling and an artistic exploration of language itself.

In telling stories, I want to show people on stage, examine human conflicts, and question patterns of behavior—to grab the audience, move them, ask questions, and to inspire them to think about their lives. I work with a reduction of elements on stage to focus on the existential problems of the characters.

Language is a transmitter, a code of information and a medium for expressing our emotions, fears, states of being, dreams and wishes. Language is also poetry. With the term poetry I do not just mean beautiful language, but real work on language-- work that deals with the exploring the possibilities of language on stage and searches for unique ways of playing with speech. I am interested in discovering new approaches to language and its function in the theater.

Theater is a place for confrontation - with texts, stories, people, images, and opinions. Theater is a space for looking and listening. Theater is a collective experience. In my work, I try to make the audience aware that they are in this space together - experiencing and watching together – A showcase for language, where texts can work.
close
Julia Hart was born in Pittsburgh, PA in 1981. After growing up in Duluth, Minnesota, Julia received her bachelor's degree in German Literature and Theatre Studies at Yale University in 2003. She was awarded a Tutorial Fellowship from the Robert Bosch Foundation in 2003/2004 where she directed her first shows in the former East Germany. She then spent a year in New York working in publishing and assistant directing off-Broadway, and working for the Civilians. She was awarded a Fulbright Grant in 2005 to return to Germany to research theater post-reunification. After interning and assistant-directing at the Theatertreffen Festival, Maxim Gorki Theater, and other Berlin theaters, Julia began the directing program at the School for Music and Theater Hamburg in 2008. Since then she has directed plays in English and German, ranging from contemporary American playwrights to the German classics and has received three scholarships from the DAAD for her achievements.
close
DIRECTING

2020

Yellow and Pink
Fundus Theater Hamburg
A theatrical debate for ages 8 and up

2019

The Hamburg Code
Lichthof Theater Hamburg

2019

Public Spaces
Öffentlicher Raum

2017

Uncharted Territory
Lichthof Theater Hamburg
American women after the Presidential Election. In English and German.

2016

Rabbit Heart
Lichthof Theater Hamburg
A philosophical show about courage and fear (Age 9+)

2016

Message to the universe
Stadttheater Bremerhaven
A new play developed by: Julia Hart, Felix Reisel and Tanja Spinger

2014

Marvelling
Lichthof Hamburg

2012

Blackbox Life
Junges Schauspielhaus Hamburg
A documentary project

2012

I Am Here Doctor Faustus by Gertrude Stein
Kampnagel Hamburg

2011

Penthesilea by Heinrich von Kleist
Schauspielhaus Hamburg, Malersaal

2010

Pornography by Simon Stephens
Theaterakademie Hamburg

2009

Coffin Sisters by Anton Dudley
Kaltstart Hamburg, Haus 73

2009

Faust II Helena Akt by Johann Wolfgang von Goethe
Theaterakademie Hamburg

2004

Poodle with Guitar and Dark Glasses by Liz Duffy Adams
Theater Plauen-Zwickau
Youth Theatre Festival

2004

The Man Outside by Wolfgang Borchert
Theater Plauen-Zwickau
Youth Theatre Festival

2004

Betty's Summer Vacation by Christopher Durang
Alter Gasometer, Zwickau
University Players, West Saxon School of Applied Sciences
close
Angaben gemäß § 5 TMG

Julia Hart
Regisseurin
Harmsenstraße 23
22763 Hamburg

Kontakt

Telefon: +491749757727
E-Mail: hartjulia@gmail.com

Wir sind nicht bereit oder verpflichtet, an Streitbeilegungsverfahren vor einer Verbraucherschlichtungsstelle teilzunehmen.

Haftung für Inhalte

Als Diensteanbieter sind wir gemäß § 7 Abs.1 TMG für eigene Inhalte auf diesen Seiten nach den allgemeinen Gesetzen verantwortlich. Nach §§ 8 bis 10 TMG sind wir als Diensteanbieter jedoch nicht verpflichtet, übermittelte oder gespeicherte fremde Informationen zu überwachen oder nach Umständen zu forschen, die auf eine rechtswidrige Tätigkeit hinweisen. Verpflichtungen zur Entfernung oder Sperrung der Nutzung von Informationen nach den allgemeinen Gesetzen bleiben hiervon unberührt. Eine diesbezügliche Haftung ist jedoch erst ab dem Zeitpunkt der Kenntnis einer konkreten Rechtsverletzung möglich. Bei Bekanntwerden von entsprechenden Rechtsverletzungen werden wir diese Inhalte umgehend entfernen.

Haftung für Links

Unser Angebot enthält Links zu externen Websites Dritter, auf deren Inhalte wir keinen Einfluss haben. Deshalb können wir für diese fremden Inhalte auch keine Gewähr übernehmen. Für die Inhalte der verlinkten Seiten ist stets der jeweilige Anbieter oder Betreiber der Seiten verantwortlich. Die verlinkten Seiten wurden zum Zeitpunkt der Verlinkung auf mögliche Rechtsverstöße überprüft. Rechtswidrige Inhalte waren zum Zeitpunkt der Verlinkung nicht erkennbar. Eine permanente inhaltliche Kontrolle der verlinkten Seiten ist jedoch ohne konkrete Anhaltspunkte einer Rechtsverletzung nicht zumutbar. Bei Bekanntwerden von Rechtsverletzungen werden wir derartige Links umgehend entfernen.

Urheberrecht

Die durch die Seitenbetreiber erstellten Inhalte und Werke auf diesen Seiten unterliegen dem deutschen Urheberrecht. Die Vervielfältigung, Bearbeitung, Verbreitung und jede Art der Verwertung außerhalb der Grenzen des Urheberrechtes bedürfen der schriftlichen Zustimmung des jeweiligen Autors bzw. Erstellers. Downloads und Kopien dieser Seite sind nur fu?r den privaten, nicht kommerziellen Gebrauch gestattet. Soweit die Inhalte auf dieser Seite nicht vom Betreiber erstellt wurden, werden die Urheberrechte Dritter beachtet. Insbesondere werden Inhalte Dritter als solche gekennzeichnet. Sollten Sie trotzdem auf eine Urheberrechtsverletzung aufmerksam werden, bitten wir um einen entsprechenden Hinweis. Bei Bekanntwerden von Rechtsverletzungen werden wir derartige Inhalte umgehend entfernen.

Quelle: https://www.e-recht24.de/impressum-generator.html
schließen
latest news
FRIEND SIMULATOR is playing at the Children's Theatre Festival at the Fundus Theater.


...read more
recent work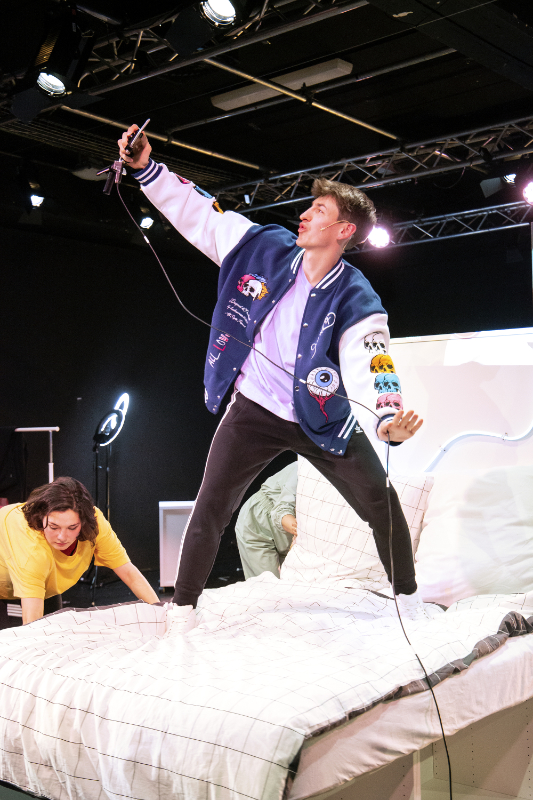 FUN CHALLENGE by Julia Hart
Lichthof Theater
...read more